Innovative Vegan Leather For Your Next Leather Accessory
We at CreateLab have chosen our Top 5 picks of the most innovative vegan leather companies for your next leather accessory. With so many unusual and surprising alternatives to leather, we feel the best ones are leathers that are genuinely cruelty-free, sustainable and biodegradable. For the best leather sourcing and leather production service in the UK, CreateLab has crafted hundreds of luxury leather products for aspiring businesses in the leather industry. Check out our portfolio to learn more about us.
So now, let's get on with our topic picks for the best alternative to leather, the vegan leather:
Founded back in 2016 in Milan, VEGEA introduces the use of biomaterials to create a beneficiary impact on the world of fashion, furniture & packaging. VEGEA channelled to the top of manufacturing by replacing dangerous manufacturing methods with its new mix of chemistry and agriculture. Changing the world one product at a time, VEGEA produces plant-based eco-sustainable products. The wine leather is obtained from grape marc by the result of pressing the fruit for its juice.
VEGEA shows off its process of using renewable sources like biomass and raw vegetable material. Their main goal is to shift the massive consumption of fossil energy and create a nature-friendly environment. Also, let's not forget that they are continually investing in new research and development. In other words, VEGEA has heavily financed eco-friendly innovations and ideas. They are always working hard to create a beautiful environment for everyone.
Furthermore, their materials are based on the ethical principles of sustainability, health and safety. In addition to that, they respect their workers and consumers health and safety-first rule—a socially responsible company with great respect for the environment. 
From founder Carmen Hijosa comes a durable, sustainable and biodegradable leather made from pineapple leaves. The leaves are processed in a way that the fibres can be transformed into different textiles. This innovative natural textile can be found via their website as they are the sole distributor of the product. The leaves used to make this fabric are the byproduct of existing agriculture. Furthermore, every time you buy from them, you are contributing to the income of stream of hundreds of farming communities. Piñatex is a natural, sustainably-sourced, cruelty-free material.
The company started with the aim to remove the environmental impact of mass leather production and chemical tanning. With tons of natural resources available, Carmen began her journey of Piñatex by using pineapple leaf fibre. On top of that, she built a scalable commercial industry for the farming communities, generating more work for the locals and minimal impact on the environment.
Coolstone Leather
Just like the name suggests, its made from sewable thing slices of slate stone. Imagine a combination of paper and leather blended, then add a matte finish to it. Yes, the hand-feel of coolstone leather is similar to it. Even though its made out of slate stones, it has a supple and soft finish. In addition to that, its durability is on par with PU and PVC.
The real beauty of this leather comes from the old and battered look of the leather. A vegan leather that gets better with age, as marks and scratches give it the look of worn stone. Not to mention the fact that coolstone leather positively impacts the environment. Isn't that the real winner here? Its definitely a more sustainable alternative leather to consider for your next leather accessory.
Treebark Leather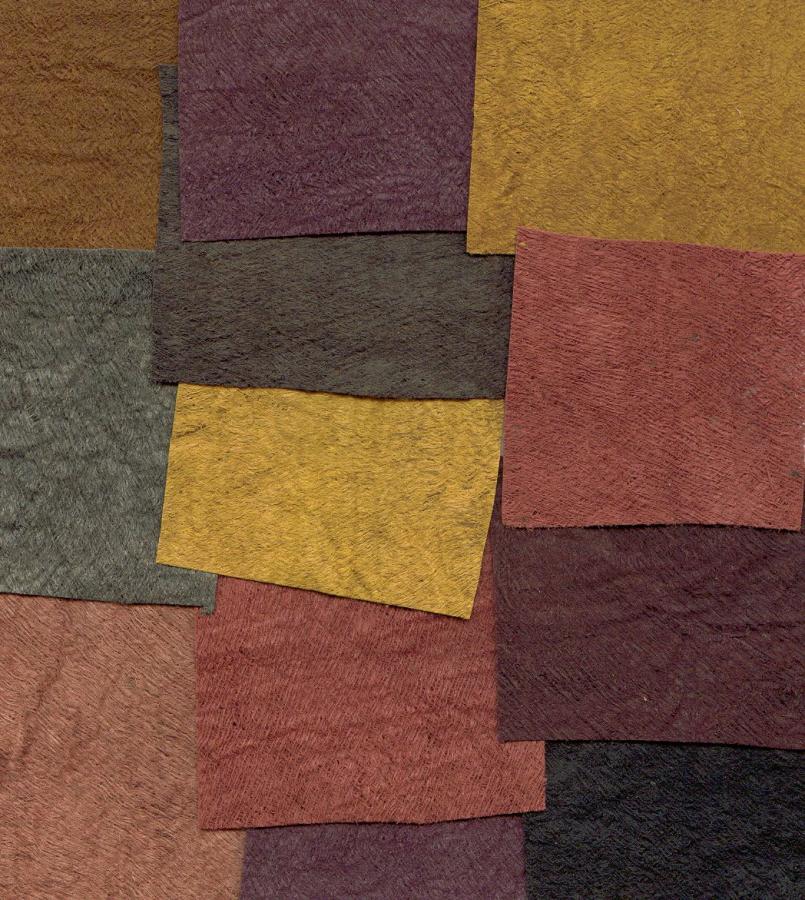 Another friendly alternative to real leather is treebark leather. Treebark leather is extracted from sustainable timber and has high durability and uniqueness to every piece due to the variation in natural grains of the product. Not to mention, it can be transformed into a beautiful fabric to create coats and trousers. Treebark leather is made from fast-growing renewable wood and is treated with organic chemicals to make it usable into making vegan leather products. Because it is made to have flexibility and durability, it is easier to work with for the leather craftsmen. Furthermore, one of the biggest fashion company in the world, Dolce and Gabbana used tree bark leather (in the form of Flesswood) to craft amazing platform shoes as seen in their catwalk collection.
For our top pick when it comes to Treebark Leather, we went with BARKTEX—made from sustainable timber (and a fair-trade, Africa-centric production). Other tree derivatives made into vegan leather include Cork and Paper (yes, paper!).
Apple Leather
We can all agree that apples are healthy and delicious, but wait, there's more. Aiming to recycle organic waster, engineer Alberto Volcan created an eco-friendly leather bag made of apple scraps. Yes, you heard it, right? It's leather made from apple waste. An incredible alternate to real leather, apples are praised for its chic while being cruelty-free and sustainable. And let's not forget that the leather made from apple waste is thick enough to meet commercial standards. It's a win-win for both humans and the environment. We can't wait to get our hands on this leather to make some high-quality, luxurious leather products.
Cactus Leather

At this point, you are probably going to rate this article 'insane' but hold on; we ain't making this up. Cactus Leather is the new kid on the block, which have all the vegan-friendly options like being organic, cruelty-free and stylish. For our pick, we went with the Mexican brand, Desserto. Just like the name, they make fantastic high-quality leather from cactuses. In addition to that, we believe it's a massive step towards a more eco-friendly fashion future, and we are rooting for it.
Waste can be turned into vegan leather that is incredibly chic while also being cruelty-free, sustainable and biodegradable. And with a wide variety of leather fabric to choose from and considering its cruelty-free. We are proud to offer our leather production services in the UK for your vegan leather goods. Get in contact with us here and find out more about our services.
RELATED ARTICLES